We may earn money or products from the companies mentioned in this post. For more information, see our affiliate disclosure.
Decorating you home for the holidays is serious business. There are so many things to consider between where to decorate, and what you want to decorate it with. There are the lights, the accessories, the plants, the tree, the ornaments, and much more that you have to plan out and shop for. And that's just for the living room.
If you want some help sorting through all the options, check out our Indoor Christmas Decoration Guide below. We've got all the most popular decorations explained, along with tips and ideas. Feel free to sift through and find some advice to help you make your dream holiday decor a reality.
Christmas Tree Decorations
Aside from the tree itself, which is also a decoration, there are plenty of trimmings that are available to dress up your Christmas tree. Whether real or artificial, big or small, below are some ideas for what to put on your tree.
Christmas Tree Ornaments
The first and most common decoration idea is Christmas tree ornaments. Ornaments are basically trinkets that you hang off of your tree branches.
The most popular style of ornament is a round, almost bubble shaped ornament that can be made of plastic, foam, or even glass.
In their very basic form they are solid colored, but they only get infinitely more creative from there. You can find glitter, clear, or even personalized ornaments to decorate your tree with.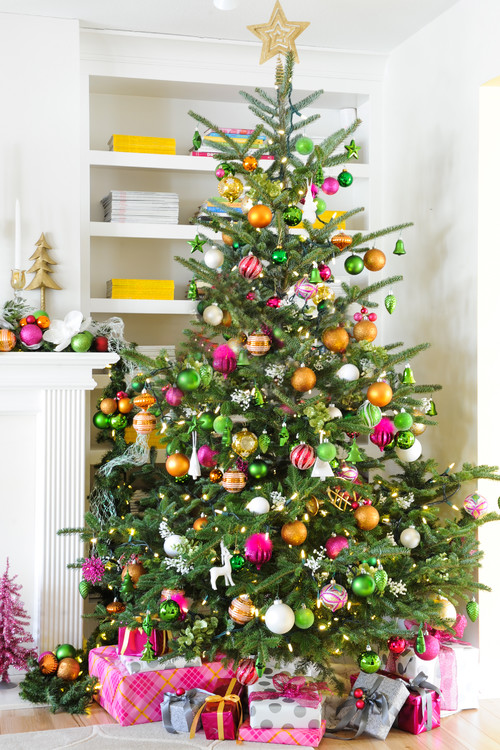 Aside from the classic round shaped ornaments, there is really no limit to ornaments.
There are fishing themed ornaments, baking themed ornaments, nail polish ornaments, and just about anything else you could imagine.
Some families even pass down ornaments for generations, especially those that are dated to represent the many Christmases spent together.
Christmas Tree Lights
These decorations are pretty straightforward: they're tiny lights that you wrap around the tree. But there are still a few options to consider.
The color of the lights is a great place to start. There's plenty of options, from the classic holiday colors to multi-color, blue, and even pink.
When you've chosen your color, you can look at what types of lights you want. There are the standard ones that just light up when you switch them on. But you can also get some with dimmers or timers, that can be set to make beautiful holiday light shows.
With the lights purchased, the last consideration is how to place them on the tree. You can do a classic spiral wrap, or you can drape them from the top down, parallel to the tree. This makes the tree look sort of like a carousel. You can even do some combination of both!
Tinsel
Tinsel are thin strands of glittery material that are mostly commonly seen draping over the individual branches of a decorated tree.
It was originally intended to look like ice, or icicles, as if the tree had been out in the harsh winter weather overnight.
Today, tinsel can be used throughout your decor, and is favored more for it's shine, rather than it's resemblance to ice. You can use it in an garland, strewn on a shelf with other decor pieces, in a wreath, and even in your hair!
Don't be afraid to get creative. This decoration is cheap, and comes in a variety of colors. You can use it everywhere in your house as a touch of holiday glam.
Tree Topper
The traditional toppers are stars or angels, both of which obviously relate to the Christian traditions of the holidays.
You can go with those classics, or you can do your own thing!
Here are some of the common materials these toppers are made out of:
Plastic: These are lightweight, and sometimes light-up! Different options will have lights that you can attach to your existing tree lights. These are also the most durable option!
Metal: depending on the metal used, these are another lightweight option that won't topple the tree. Many people like these for the touch of sparkle they add. These tend to be durable, just make sure you don't accidentally bend or dent it in the process of storage.
Glass: Glass toppers can be heavy, and they're also extremely delicate. It's not the best thing to have at the top of your tree if you have pets or small children. However, glass offers a touch of sophistication, and it's one of the prettiest options.
Of course, there are other materials, and a ton of different styles available. You can find one suitable for just about any kind of tree.
If you're doing something unique, like a coastal tree, you can find a starfish topper, or even something like a shark! For a dessert tree, go with something pink!
You can even skip the store altogether and do a handmade option. It's the perfect, sentimental touch for any family.
Tree Skirt
If you don't already have one, consider purchasing a nice tree skirt.
These decor items have a few different functions. The main one being to disguise the bottom of the tree.
A live tree will have a water well at the bottom, and a fake tree will have it's stand. Both of these are necessary, but not great aesthetic-wise. Covering them up with a skirt helps make the tree a little prettier.
It also makes a great spot to lay all the gifts. Traditionally, presents sit around the tree. Having a large tree skirt gives you plenty of room for boxes and bags, and helps keep everything separate from the rest of the room.
With white options, you also get the benefit of realism. It makes the tree look like it's rooted in the snowy ground. This is a small touch, but it makes for a great overall visual.
Like most decor items, tree skirts come in a wide variety of options. You can go with modern, rustic, traditional, or just something plain. Whatever your decor, there should be a skirt to match.
Furniture Covers and Blankets
While the Christmas tree generally remains in isolation, a stand alone decoration, you can actually make just about any part of your house festive during the holiday season with just a few adjustments.
Cushion and Couch Covers
Between couches, couch cushions, and even chairs you can find decorative holiday covers to put on display for the holidays.
While couch or chair covers might cost a big more (more fabric required), cushion covers are actually quite cheap.
Or if you prefer, you can just go with the Christmas throw pillows themselves.
Blankets and Throws
Blankets and throws are another way to dress up your furniture for the holidays.
They are actually a good substitute for covers as well which can be a bit costly.
You can drape them over couches, chairs, ottomans, and your bed to create that holiday look.
While I don't think bedspreads require a section all to themselves, it can be mentioned now that a Christmas themed bedding is always an option as well.
Staircases and Fireplaces
Staircases and fireplaces tend to be overlooked when it comes to decor, which is a shame. They present great opportunities to maximize the holiday spirit in you home.
If you want to make the most of your decor, here are some tips and ideas to help:
Staircases
Even a small staircase is a great decor opportunity. It may seem precarious to decorate up a lot of steps, but it doesn't have to be. It's very easy to sit on the steps and run lights, garland, or whatever else you want.
One popular look is to decorate the railing spindles with lights. You can weave the lights through each spindle (save a lot of time and energy for this process, especially if you have a large staircase) you can simply run them along the bottom. You can use garland the same way, pairing it with the lights, or letting it stand on it's own.
You can also use removable hooks to hang up whatever you want along the spindles. (This works best with larger, flat spindles. For round ones, you can also try poster tape.) You can do stockings, tinsels, ornaments, Christmas cards, photos, or whatever else you want displayed.
Just keep in mind that hooks and poster tape use adhesive, so you want to be careful when removing them. With painted spindles, you risk taking off some paint if you rush the process.
For an easier option, you can also wrap gift bows or large holiday bows around the spindles. Most will already have ties or adhesive, so you don't have to worry about making any extra purchases. Overall, this takes less time and effort, but looks just as cool
Regardless of what you choose, keep in mind that the stairs need to be safe. Don't run anything along the steps themselves, and try to avoid the rails as well. You want to make sure that everyone can navigate them safely, day or night.
Fireplaces
Traditionally, the fireplace mantle was where you put a nice pine garland, and hung up stockings.
I recommend this classic look for anyone. There are plenty of great fake garland options, with different colors, and some that even have lights. You can also get garland at the dollar store, if you're shopping on a budget.
Of course, not everyone has a traditional mantle Most modern style houses don't have anything around the fire place at all.
If this happens to be your case, You can still hang stockings and decorations! Get some removable hooks and double sided hanging tape. They'll allow you to decorate, but will come right off after the holidays. You can even paint the hooks to make them match your style.
As far as stocking go, they come in a lot of designs and styles; you should easily find one to fit your tastes. These are also another great, family DIY project as well. You can purchase some plain stockings at the dollar store or craft store, and have everyone decorate them together.
Other Decor
To extend the holiday decor throughout your house, consider some other decor items.
There are products that can help you decorate every surface in your home.
If you really want to show out for the holidays, here are some other decor items to consider.
Nativity Scene
Nativity scenes are a traditional touch that serve to remind us of the reason for the season.
You can go with detailed, painted ceramic sets, but they can be costly. There are plenty of budget friendly options made from wood, plastic, and other materials. There are even minimalist styles to better fit modern decor.
Whatever set you choose, take the time to enjoy it when arranging it. You can do it with family, for a nice sentimental Christmas tradition.
Christmas Village
Christmas villages have the same idea as a Nativity scene: you set them up on a shelf or other flat surface to create a holiday panorama in your home.
If you haven't purchased on of these before, the easiest thing to do is to pick up a complete set. Like Nativity scenes, they can get pretty expensive, so look for cheaper materials if you're on a tight budget.
After owning one for a season, you might find that you really enjoy it. If so, feel free to expand your set! There are so many possibility for expansion, like additional shops, homes, villagers, and maybe even a railroad.
Floor Decor
Don't forget to utilize one of the large spaces in the home: your floor. There are lots of places that may not be reaching their potential, like the extra pace around your tree, fires place, or tv stand.
Those areas can benefit from things like fake cotton snow, or plants. You can also use them for larger items like reindeer, nutcrackers, Santa figures, and others. Either way, don't forget that there are a lot of places in your home that could benefit form some holiday cheer.
Plants
Don't think that all decor has to be inanimate. There are some great options for holiday greenery as well.
If you like houseplants, consider picking up a Norfolk island pine, or some poinsettias. These traditional holiday plants offer a lot of decor opportunities.
Poinsettias come in a variety of colors, including a gorgeous variegated pink and white. You can also get the classic ones with that deep, holiday red. Whatever your choice, these plants are gorgeous and easy to maintain. (Just keep in mind that poinsettias are poisonous, so keep them out of reach if you have pets or small children.)
Norfolk island pines are small trees that you can grow indoors. These are striking on their own, but you can also add some tiny ornaments for a miniature live Christmas tree!
And when the season is over, both of these are still low-maintenance houseplants.
For people who lack a green thumb, try dead plants. Sprigs of holly (fake or otherwise) are perfect to decorate with. You can also purchase birch branches to give your home a rustic, cozy vibe.
Bathroom Decor
It's typical during the holidays to have more guests and family in your home than you usually would. As such, don't neglect the other rooms of your house.
The bathroom is another place where guests may visit. And you'll be spending time there as well, so you might as well dress it up for the season.
For a simple touch, get some holiday scented hand soaps. For a bigger statement, you can get holiday floor mats, and even a Christmas shower curtain.
Front Windows
The front windows are what will greet people visiting your home or passing by.
If you want a festive house for the holidays, don't forget to decorate these.
There are a variety of ways in which you can do that ranging from indoor window decorations to indoor window lighting.
Making a Home for the Holidays
With a little planning, it's easy to find everything you'll need to get your home ready for the holidays with indoor Christmas decorations.
It helps to have your style picked out beforehand. Choose if you're going to go modern, traditional, farmhouse, or whatever else.
From there, consider the space you're using. You want to make sure you have enough to cover all the rooms or spaces that you'll be decorating.
But don't focus on the design so much that you lose sight of the reason you're doing it. The point is to have fun and spend time with loved ones during the holidays. Get everyone involved in the decorating process. Let them contribute their own ideas, and don't try to make everything perfect.
Great decor is meant to be shared, so that it can bring joy to others. Get into the holiday spirit by enjoying your decor.